FREQUENTLY ASKED QUESTIONS


WHAT IS YOUR SHIPPING POLICY?
FOR PRINTS: Shipping times range from 2-7 business days. You will receive a tracking number as soon as your order has been shipped.
| | | | | |
| --- | --- | --- | --- | --- |
| Order type | Production Time | Standard Shipping | 2 Day Shipping | Next Day Shipping |
| Photo/Fine Art Paper (print only) | 4 Bus. Days | 3-5+ Bus days* | 2-3 Bus. Days | 1-2 Bus. Days |
| Acrylic or Metal (print only) | 5 Bus. Days | 3-7+ Bus days* | 2-3 Bus. Days | 1-2 Bus. Days |
* Business Days are Mon. - Fri.
FOR ORIGINALS & LIMITED EDITIONS Shipping times range from 3-10 business days. Tracking information will be emailed to you as soon as available.


WHAT IS THE PROCESS AFTER THE PURCHASE OF AN ORIGINAL HAS BEEN MADE?
Once the transaction is confirmed on the website, we will provide you with a shipping date and tracking number and then the preparation and packaging begin. The process takes 3-4 business days for works under 40x60" in size and 5-6 business days for works over 40x60" in size. Then we must add a few more business days for the shipping depending on the distance of the location. We will update you on the shipping status via email, phone/text or both if requested.



HOW DO YOU SAFELY SHIP ORIGINAL ART?
We offer FREE shipping for original paintings shipped within the United States. Please contact us for a quote for international shipping. Call us at (305) 608-5351 or email us at info@joseltelot.com for a quote.
Shortly after you have completed checking out on the website we will provide you with a shipping date and tracking number.
We use UPS as our shipping carrier.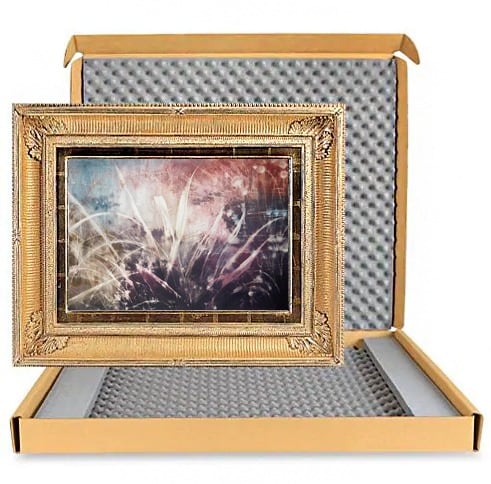 Your painting will be safely shipped with full insurance. For paintings under 40x60 inches, we use special artwork shippers that are lined with puncture-proof Tyvek plastic (pictured above). Larger paintings will be carefully shipped in a wooden crate.
Wooden crates are custom-built by Jose himself. Each original is carefully positioned in layers of insulation foam board, bubble wrap, kraft paper, and acid-free glassine paper.
Your painting is 100% guaranteed with a 30-day, no questions asked exchange policy.
NOTE: For insurance purposes, every original work of art is photographed before and after it is packed and before it is sent to you.


WHAT IS YOUR RETURN POLICY?
RETURN POLICY FOR ORIGINAL ARTWORK: We fully guarantee that you will love your Jose Luis Telot original painting! We accept exchanges for original paintings for any reason within 30 days. We do not offer refunds on original artwork.

RETURN POLICY FOR PRINTS: Every Jose Luis Telot custom fine art print is made to order. We offer a 30-day exchange policy, where you can return the print for any reason within 30 days, and we will send you a different print as a replacement. If you wish to exchange your print, you are responsible for paying the return shipping, and the print must arrive in good condition for an exchange to be processed. We do not offer refunds on prints.
Exchange/Returns can be sent to:

Jose Luis Telot Studio, LLC

5704 North Keystone Ave

Chicago, IL 60646




If your print arrives damaged in any way, please contact us and a replacement will be sent immediately.


DO YOU ALLOW LOCAL PICK-UP FOR ORIGINALS?
Of course! If you're in the Chicagoland area, email me, and we will coordinate a time for you to pick up your piece versus shipping it. Or if you prefer, I can personally hand-deliver the artwork for a small fee.



HOW SHOULD I HANG MY PAINTING?
Your painting will arrive ready to hang. There will be hanging wire or D-Ring hooks already fitted to the back of the painting. The best way to hang your painting is to use two hooks set about 6-12 inches apart (this helps to keep the painting level.) Large home centers and other hardware stores sell great picture-hanging hooks (link here) that are cleverly angled so they can support the weight of a painting on a single nail.



WHAT PAYMENT METHODS DO YOU ACCEPT?
We accept all forms of credit and debit cards, as well as checks. Credit cards are processed through the STRIPE payment processing platform or Paypal. This website provides a secure checkout with SSL encryption. You may also call us with a credit card number (all credit cards are accepted), or we can email you an invoice with a link to pay securely online using PayPal.
The phone number to reach me is (305) 608-5351 - call or text.



CAN I PURCHASE A PAINTING ON LAYAWAY?
Absolutely, Jose has been offering layaway successfully for many years. The terms are flexible and can be discussed with him personally. Usually we split the total cost of the painting into 6 or 12 payments, and the first monthly payment (ususally 10%) would be taken as the holding deposit. If you fall in love with a painting, Jose would love to work with you to make it easy to purchase!



HOW DO I CONTACT THE ARTIST?
Please contact Jose Luis Telot via email:info@joseltelot.com.You may phone/text him at (305) 608-5351. You may also use the contact form on this website. Unless Jose is mountain biking through the woods or hiking in them, he will get back to you the same day.



HOW CAN I STAY IN THE KNOW WITH NEW WORKS?
We would love for you to be the first to know about any new work! An easy way to stay in the loop is by signing up for our newsletter. Join our mailing list to receive our monthly newsletter!You can also follow us on our social media pages as we are constantly posting about new work!


HAVE A SPECIFIC QUESTION WE DID NOT ADDRESS HERE? LET US KNOW!
We would love to answer any questions you may have we did not address above.
Please contact Jose Luis Telot Fine Art directly by calling (305) 608-5351.
We will be happy to help you answer any other questions you may have.